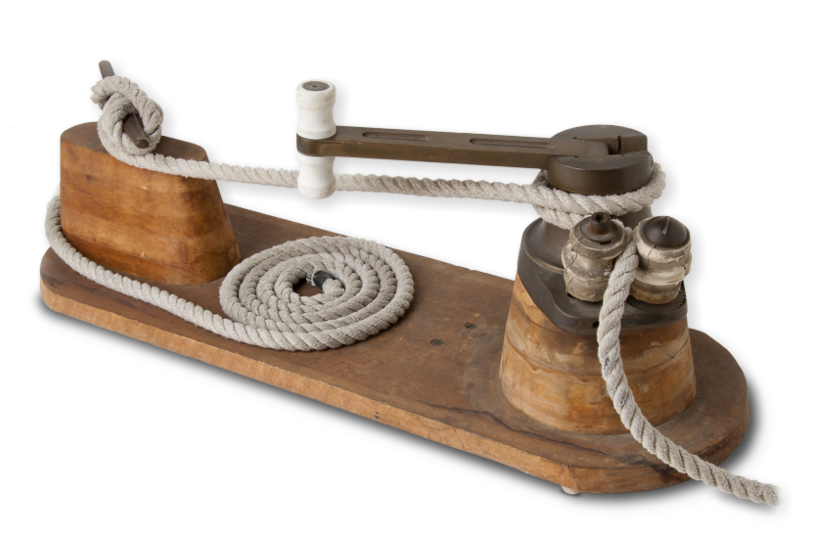 An early MPECO designed self-tailing winch from the 1950s.
The bronze parts were cast in the sand down at the beach.
Our company was founded in the late fifties by Frank Grant, an inveterate tinkerer. Why not a better line snubber?
And so MPECO was born.The company has always been in San Pedro, California and has been in our present building on Channel Street since 1989.
In 1984 Frank's son, Doug took over operation.The apple didn't fall far from the tree and soon Doug began thinking about building better solutions for sailors.
In 1989, after an excruciating night at sea off the coast of Mexico listening to a squeaking boom vang, the idea of applying the principles of pneumatic compression to vang construction formed. Sailors quickly noticed Doug's new-fangled boom vang. It was quiet and worked better than anything else out there.
In 1993 Buddy Melges called and wanted Vang Master boom vangs for his boats.Vang-Master was also onboard Roy
Disney's Pyewacket for its record breaking 1999 Transpac victory, and today, is on the latest Pyewacket. It is standard equipment on Melges 24s, and is seen on racing and cruising boats from 20 feet to Maxies. Over 3,000 Vang-Masters have been sold to satisfied owners around the globe.
Our efforts started in 1985 with a prototype vang designed for a Cal 25. From the first test sail, we knew we were onto something. The results led to refinements, and this progression led to Vang-Master.
If we don't have a standard size Vang-Master that fits your boat, we will be pleased to manufacture one for you!
Happy Sailing,
Doug Grant