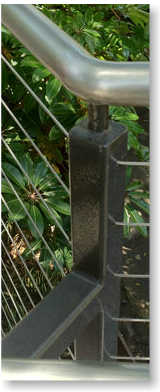 Architectural Rigging:
Wire Rope for the Home.
When tensile cables and rods become the primary load carrying structure, all kinds of possibilites for tensioned fabric roofs, suspension bridges and glazed facades become a reality. Suddenly creative structures of unparalled beauty become within your reach. We can handle projects froom the simplest railings to the most complex engineering designs. MPECO is your leading source for architectural rigging in greater Los Angeles.
Cable and Fitting Selection
Because there are a number of different systems out there, we can help you select the right one for your unique situation based upon ourprofessional experience. We offer unbiased advice and are not limited to a particular set of products. We analyze the interaction of the load systems within your project, so that we can precisely customize a system from our wide range of products. We are also happy to work with your architect or engineer on executing their designs.
Custom Fitting Design
Because MPECO is a part of a larger machine shop, we can select or even machine our own fittings, making it a certainty that the end-product is exactly right for the job. Whether it is a single custom-made item, or a continuing line, we are dedicated to making your system work for you. The quality of our products is beyond reproach, and the finished product will be a source of pride for both you and us as well.